QOU Promotes English Language Courses to Graduate Students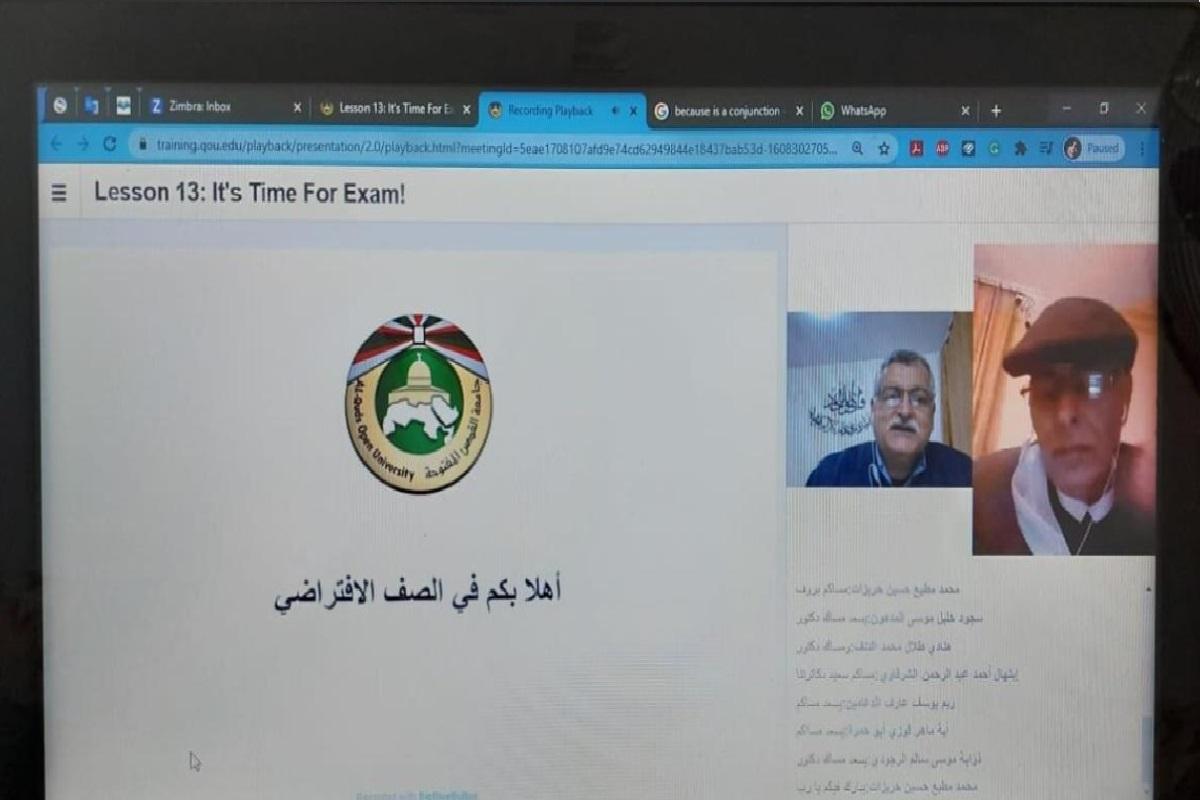 Following al-Quds Open University (QOU)'s mission to promote learning languages, the Deanship of Graduate Studies and Scientific Research with Adel Z'aiter Translation and Languages Center (ATLC), and the Continuing Education and Community Service Center (CEC) and in cooperation with the Information and Communication Center (ICTC) developed a platform for a "General English Language for Graduate Students" training course (GELG).
ATLC just finished providing two GELG courses for the first semester of 2020-2021, with 68 graduate students on a 40 hours-basis training course. The last meeting was attended by Prof. Samir al-Najdi, VP for Academic Affairs, and Prof. Husni Awad, Dean of Graduate Studies and Scientific Research. Prof. al-Najdi congratulated students on their achievements in this course and on the importance of attending such a course in regards to its uniqueness and quality as a specialization requirement. He also sent Prof. Younes Amr's greetings to the students and his congratulations for their success. On his side, Prof. Husni thanked Ms. Sulafa Musallam, Director of ATLC for her efforts in developing the curriculum of the course and the eloquence in providing the course which touches the student's will to break the language barrier's shyness and promote their skills in foreign languages such as English as a lingua franca.
ATLC began with two training courses with 56 graduate students in February 2020 for the second semester of 2019-2020, as a face-to-face course, where each course accounts for 40 hours of training. However, due to the COVID-19 virus pandemic and the closure of the educational facilities worldwide and especially in Palestine, the course was put temporarily on hiatus. ATLC and ICTC worked incessantly to upgrade the face-to-face course to an online-based one. The course's website was created under https://teachingeng.qou.edu/ for the summer of 2019-2020. The site uses an open-source database with different activities and programs to choose from. It also relies on a platform called "Big Blue Button" for virtual classes, where sessions can be recorded, sub-rooms for discussions can be opened, activities can be created, and PowerPoints and videos can be uploaded.