Curriculum and Courses Department
Definition

Curricula & Textbooks Department is one of the essential management educational units supervising the preparation, development and assessment (critique) of educational specialties. It follows the academic directorate in its structure, and it has a direct link with the Deans of academic Faculties. In coordination with all concerned personal, it follows up preparation, development and enrichment the educational material presented to the university students. Also it has a link with; department of Procurement; as well as all Educational Directorates, Department of Admission and Registration, Information and Communication Center (ICTC), and Open Learning Center (OLC).
Vision

The ability to provide the students with the optimal and distinguished services with regard to the different learning resources of Textbooks and supporting multimedia sources.
Mission

Saving the students the essential learning materials and providing them with the scientific material in high efficiency coping with technological developments according to the essence of the Total quality Assurance.
Values
Working as team - workers.
Constructive cooperation.
Continuous Developments & Updating.
Students Satisfaction is crucial.
Distinction in Performance.
Objectives
The Department in cooperation with Academic Faculties Deans & other entities in the university share in:
Preparing the Textbooks through a credited and specific mechanism.
Evaluating , developing , reviewing the Textbooks through credited and specific mechanism according to the QOU standards.
Insuring all courses are scheduled each semester and insure the proper and timely printing of their books in cooperation of the Department of Procurement.
Follow-up with improvements and developments to the university's guide- book in Cooperation with Academic Faculties Deans. .
Cooperation with Academic Faculties Deans to verify procedures undertaken by the Ministry of Higher Education to enlist new academic Faculties and academic specialties.
Department Structure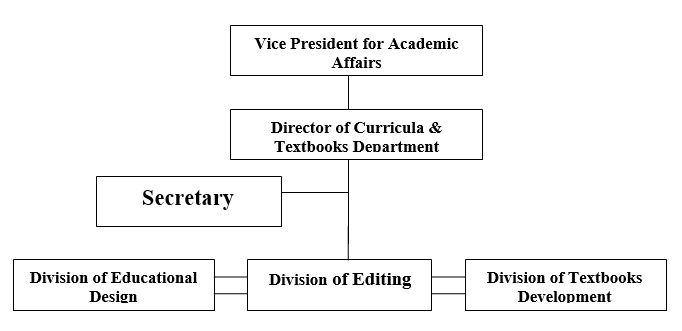 Contact Us

Academic Affairs
Curricula and Textbooks Department
Jerusalem – P.O Box 51800

Tel: +970 2 5817237, +970 2 5816239
Fax: +970 2 5326697
E-mail: [email protected]