In partnership with the Municipality of Lille, QOU and the International Network discuss cooperation in the implementation of Developing the Performance of Social Workers Project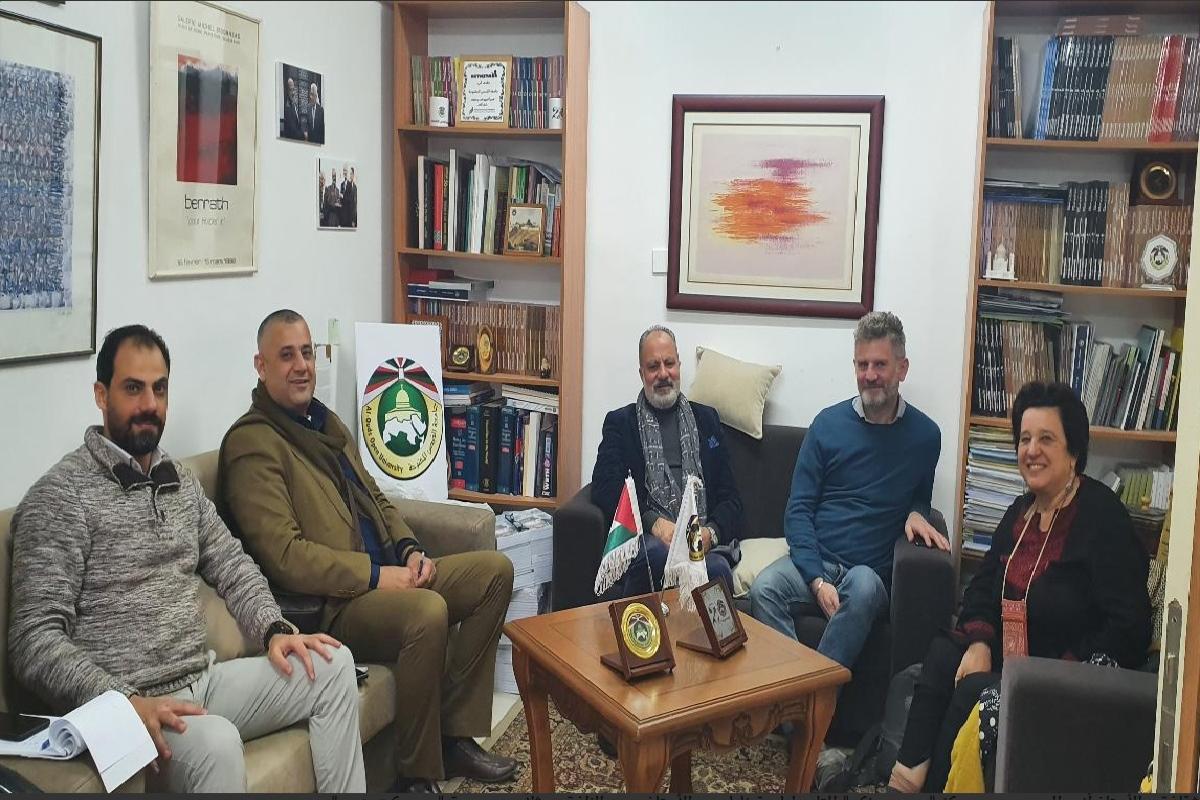 A delegation from QOU and the International Network for Youth and Support for Social Equality in Marginalized Areas discussed with the Municipality of Nablus and a number of institutions the implementation of a project to develop the performance of social workers in the city. The meeting, which was held in the Municipality of Nablus, was attended by Dr. Eng. Imad Hodali, Assistant President of the University for Public and International Relations and Media, and Dr. Iyad Abu Bakr, Dean of the Faculty of Social and Family Development, Mr. Qusay Hamid from the University's International Relations Department, and Ms. Diana Salah, Public Relations Coordinator. The International Network was represented by its president, Dr. Joel Bourdie, and Dr Bruno DUPONT, a member of the network. The municipality was represented by Ms. Samah Al-Kharouf, a member of the Municipal Council and Rapporteur of the Cultural Centers Committee, Mr. Ayman Shak'a, Director of the Community Resource Development Center, and Mrs. Rajaa Al-Taher, Director of Public and International Relations at the municipality.
At the beginning of the meeting, Dr. Hodali presented an explanation about the cooperation between QOU and the International Youth Network, and gave a brief presentation of the international conference on "The role of social service in working with young people: Towards consolidating the values of democracy and promoting civil peace", which was held in cooperation between the University, The network and other Palestinian universities on May 2018, and added : "This project comes in order to implement the conference outcomes, and the beginning of a series of joint projects aimed at raising the capacities of social workers, exposing them to the experiences of other societies and exchanging experiences with social workers in the countries members of the network. "
For her part, Dr. Joel gave detailed explanation about the international network, which consists of 9 countries, including Palestine. The network is based in France, and has been providing its services for the last 15 years. Dr. Joel emphasized that the network's first priority is to focus on young people in marginalized and less fortunate regions, in order to enhance their role in society, build their leadership personalities, and enhance their creativity.
At the end of the meeting, the participants agreed to hold a preparatory workshop before the implementation of the project.