QOU wins UALL International Award for best innovative educational project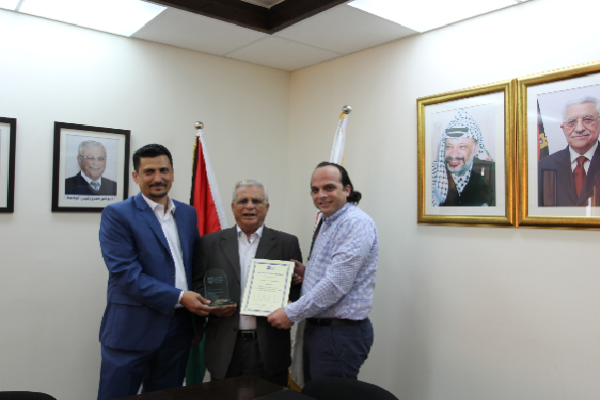 Al Quds Open University won UALL international Award for its project "Mobile Educational Center to Improve Educational Opportunities in the Marginalized Areas".
The project which is implemented by the Continuing Education and Community Service Center at QOU is funded by Community Resilience and Development Programme (CRDP) and aims to enhance the education opportunities for marginalized groups in South Hebron and Tubas, through equipping two vans, one for the south of Hebron area while the other is for the Jordan Valley; each van includes equipped computer lab . The van travels in the marginalized areas to provide education to children who live in areas that lack technological infrastructure. The project is run by Dr. Eng. Islam Amr, assisted by technical staff of the Information and Communication Technology Center supervised by Eng. Mohammad Fahel.
Dr. Eng. Islam Amr expressed his pride that QOU won UALL International Award and ranked in the first place in an international competition competing prestigious universities in Europe and the Middle East.
It is noteworthy that Al-Quds Open University was declared the winner of this award at the annual conference of the Universities association for Lifelong Learning, which was held between 5-7 / 4/2017, where Mr. Mahmoud Hawamdeh and Eng. Saeda Abu Halawa provided a presentation on the project and its impact on marginalized groups in the marginalized areas in Palestine.