Al Quds Open University and Erasmus+ Held a workshop on Professional Development of Staff in Higher Education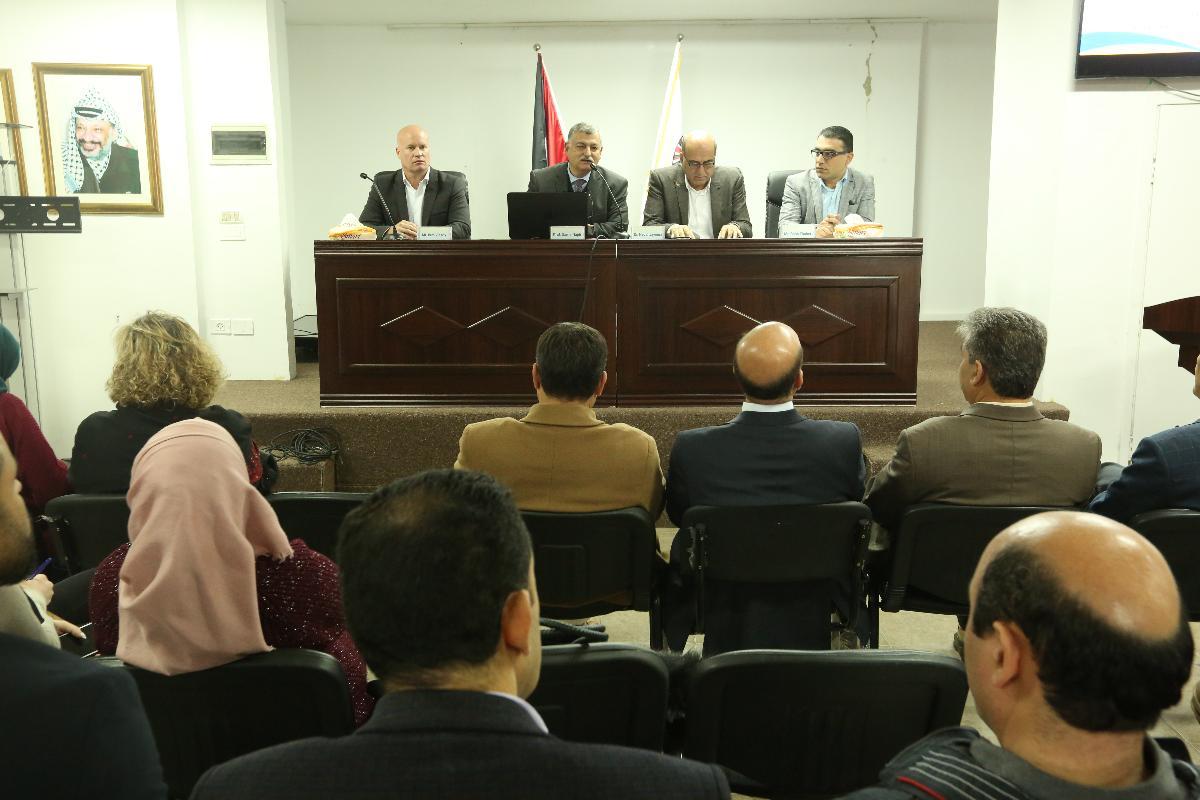 As part of the Palestinian Higher Education Reform Experts Committee of Erasmus+ (HEREs) local activities to support the Higher Education in Palestine, Al-Quds Open University in cooperation with the National Erasmus+ Office organized a workshop on "Teaching & Learning: Professional Development of Staff in Higher Education" on the 5th of December at Al Quds Open University- Administration Building.
The Vice President for Academic Affairs at QOU Prof. Samir Najdi and the Director of the National Erasmus+ Office, Dr. Nedal Jayousi opened the workshop which was attended by over 50 academics and staff from 6 Palestinian Universities (Birzeit, Al-Quds, Hebron, Khodori, Al-Istiqlal, and Al-Quds Open University) and Pitman Training Institution.
This workshop on disseminating the outputs of the HERE study visit "Teaching & Learning: Professional Development of Staff in Higher Education focused on what Kings College-London (KCL) and London School of Economics (LSE) from the top universities in the world consider as good practices in academic staff development and to what extent these practices are transferable to other universities.
The talk started with the objectives of the study visit, then the main features of KCL and SLE as international well recognized universities. Teaching and Learning Centers at both universities were the core of the presentation in terms of services the centers provide, their mission, programs, methodology, and their target audience.
The benefits of these centers and the challenges they face were also discussed.
What can we take and implement at the Palestinian universities was open to discussion.
The second talk was presented by Dr. Bret Vlazny, Fellow from the US consulate exchange program, and he focused on sharing his experience in the teacher training and development. And how Technology and Blended learning has Changed Higher Educational Professional Development. Dr. Vlazny, also explained the impact of the teacher professional development on the learning environment, learning styles and our students.
Digital competencies, information literacy and the innovation of smart and OER courses were also addressed in the third presentation by Baha Thabet. Mr. Thabet highlighted on the UNESCO ICT competency standards for teachers. And how UNESCO has addressed all the teaching aspects in on matrix to integrate ICT. In the second part, Mr. Thabet introduced the information literacy concept as a need for all levels of education. And also, he presented the American Library Association standards for information literacy. At the end, he presented the importance of understanding and adopting Open Educational Resources (OERs) in the formal education, and QOU efforts in these fields.