QOU, Teacher Creativity Center and Palestinian Education Coalition conclude the preparations for the National Education Conference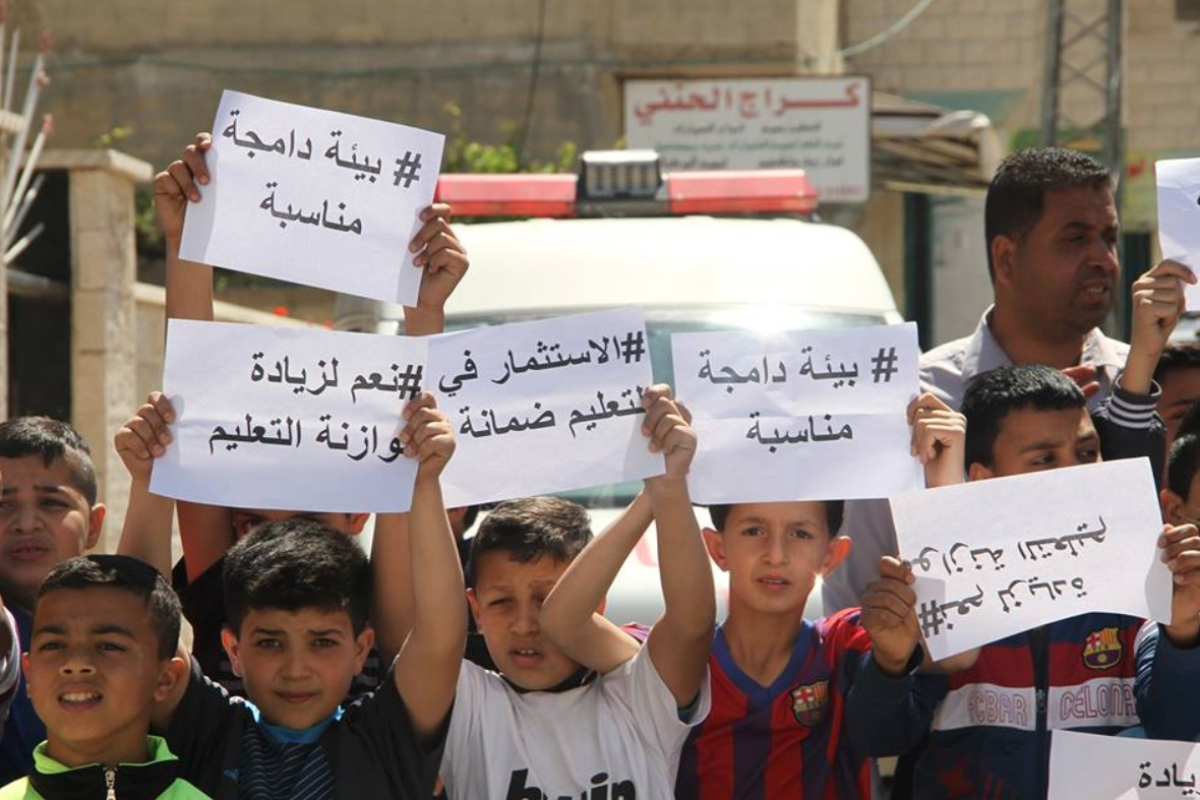 The educational sciences faculty and deanship of scientific research at QOU, Teacher Creativity Center and the Palestinian Education Coalition concluded the preparations for organizing the National Education Conference entitled "The Reality of Education in Palestine and Its Future in the Context of the fourth Goal of Sustainable Development" that will be held on 28 January 2018 at the Palestinian Red Crescent Society Headquarters in Al-Bireh and at the office of the Vice President of Gaza Strip Affairs through video conference.
The conference aims at discussing the fourth goal of sustainable development (education quality) and the indicators of this goal that include early childhood, curricula, engagement especially the disability, educating the elders and providing successful experiences in community partnership and its role in achieving the fourth goal of sustainable development. Scientific papers will be submitted during the three conference's sessions by academics and experts with the participation of the partners; UNESCO, MOEHE, QOU and others in order to improve the quality of education in Palestine. Mr. Refat Sabbah, the general director of the Teacher Creativity Center confirmed that the work to achieve the fourth goal related to education is a priority for the center and that partnership with QOU is the start to work with higher education institutions to push towards forming monitoring and advocacy bodies to achieve the 2030 agenda.
Prof. Husni Awad, head of the preparatory committee of the conference and dean of the scientific research at QOU assured that this conference came in the context of the university's interest in developing education in Palestine. In addition, enhancing the community partnership with the public and private sectors and the NGOs to support the scientific research movement and organize the scientific conferences.
Ms. Amal Bargouti, Palestinian Education Coalition coordinator, stated that this conference is one of the activities of the coalition to guarantee involving all individuals and institutions to achieve the fourth goal. Dr. Majdi Zamel, head of the scientific committee of the conference and dean of the educational sciences faculty at QOU, confirmed that this conference is in line with the university's mission and the contemporary attitudes in the field of education, it is also featured with the diversity of the scientific research.
The conference's duration is one day and will be held on 28/12/2018 at the Red Crescent Society hall in Al-Bireh through video conference with the office of the vice president for Gaza Strip Affairs and under the auspices of the Chairman of the Board of Trustees; Chairman of the Higher Council for Innovation and Excellence, Eng. Adnan Samarah.