QOU holds its first conference on the students dropout phenomenon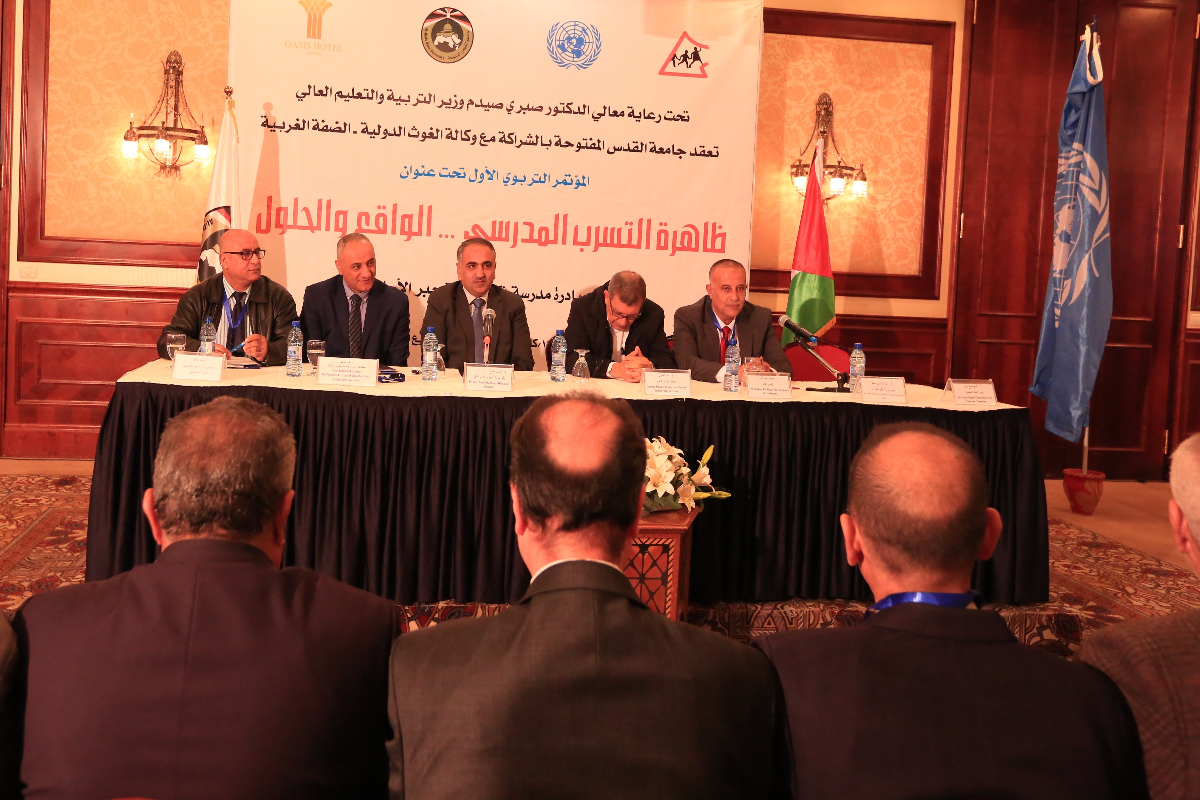 School dropout rate (30%) and recommendations to end this phenomenon
Under the patronage of His Excellency the Minister of Education and Higher Education Dr. Sabri Saidam; Al-Quds Open University, in partnership with the United Nations Relief and Works Agency for Palestine Refugees in the Near East (UNRWA), held the first educational conference entitled "School Dropout: Reality and Solutions" Participants recommended the need to address the environmental situation of schools, increase the number of classrooms, and focus on the role of the educational advisor in dealing with dropouts.
Participants called for allowing students who dropped out to attend school, regardless of their age. They also called the media to drag attention to the problem of school dropout and its negative impact on society.
The participants stressed the importance of activating laws that prevent early marriage , reduce fear and stress of examinations, provide a health guide for the school to follow up students health, and the necessity of intervention by the school counselor and private institutions at the individual level in addressing dropout phenomenon , in addition to prevention programs and the activation of the role of parents' councils.
The participants called for parents to be aware of the importance of their children's commitment to school continuity, to activate communication between the family and the school, and to organize information programs through the various media to educate parents about the importance of education for their children.
Prof. Mohammed Shaheen, the Assistant President for Students Affairs, said, "We are pleased to participate in this conference within the framework of the partnership, the responsibility of cooperation between Al Quds Open University and UNRWA in the series of fruitful and continuous cooperation in several fields."
Prof. Shaheen added: "The goals of sustainable development for 2030, represented in the quality of education, ending poverty and hunger, are integrated with each other around the fourth objective of providing quality education, which leads us to work towards the development of new mechanisms to build policies on improving access to education at all levels."
Mr. Waheed Jubran, Vice President of UNRWA's education program, stressed the need to provide a safe and comfortable learning environment to reduce school dropout. He pointed out that the fight against school dropouts requires an integrated plan, starting with protecting students who are at risk of dropout first and then follow up who actually drop out to get them back to schools.
Sessions of the Conference:
The conference included two sessions: the first session on "the reality of dropping out schools", headed by Dr. Nabil al-Maghrabi, while the second session, presented by Dr. Sami Adwan, from Hebron University, "an educational vision of the proposed solutions for school dropout" .