QOU awards the first Master Thesis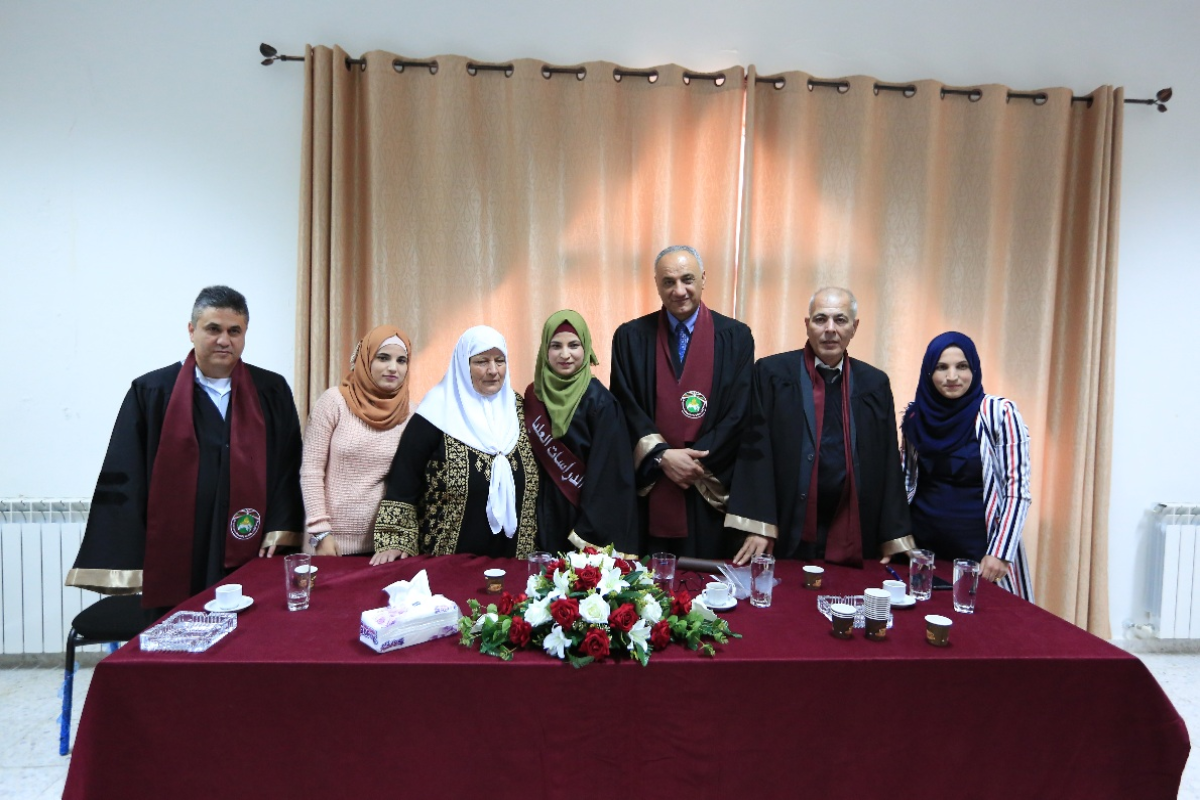 Faculty of graduate studies in QOU awarded the first master thesis since its establishment; the master thesis was done by Samar Issa Sabah under the supervision of Prof. Mohammed Shahin, the coordinator of "psychological and educational counselling" program. The thesis entitled; "the impact of a counselling program based on playing and art in increasing the aggressive behavior of SOS children in Bethlehem governorate".
The discussion session was held in Masqat building with the attendance of Prof. Samir Al-Najdi the vice president for academic affairs, Prof. Hasan Silwadi the dean of the faculty of graduate studies, and Majdi Zamil the dean of the faculty of education.
The discussion committee consisted Dr. of Omar Rimawi co-professor in psychology at Al-Quds University and Prof. Husni Awad the dean of scientific research in QOU.
University President Prof. Younis Amr welcomed Samar Sabah and her supervisor Prof. Mohammed Shahin in his office congratulating them for their first master thesis.
During the session, Prof. Al-Najdi welcomed the audience mentioning that the university made huge efforts over the last ten years to acquire the required licenses from Accreditation and Quality Authority of the Ministry of Education and Higher Education to launch the faculty of graduate studies with two majors; "psychological and educational counselling" and "Arabic Language and Literature".
Prof. Al-Najdi mentioned that discussing the first master thesis in the university is an indicator for QOU abilities of providing various programs in the graduate studies.
Prof. Awad mentioned that QOU made efforts to provide majors in the graduate studies in a high level that reflects the bright side of the university; he also indicated that the first master thesis has a special importance since it used the experimental method and discussed the community's needs directly.
Prof. Shahin, the supervisor of the thesis, draw the audience's attention to the importance of improving a counselling program that targets an important segment in the Palestinian community that is orphans to measure one of the behaviours in our community that is aggressive behavior. The study recommended an early intervention and following counselling programs to deal with the problems especially under the special conditions of the Palestinian community under the Israeli occupation and the deteriorated economic situation, which have big influences in increasing stress in the community.
Prof. Shahin mentioned that 20 master thesis will be discussed in the psychological and educational counselling program during the current semester, the researcher recommended managing the children village (SOS) using the counselling program based on art and playing and pushing the counsellors to adopt this method.