QOU hosts an international expert in Microsoft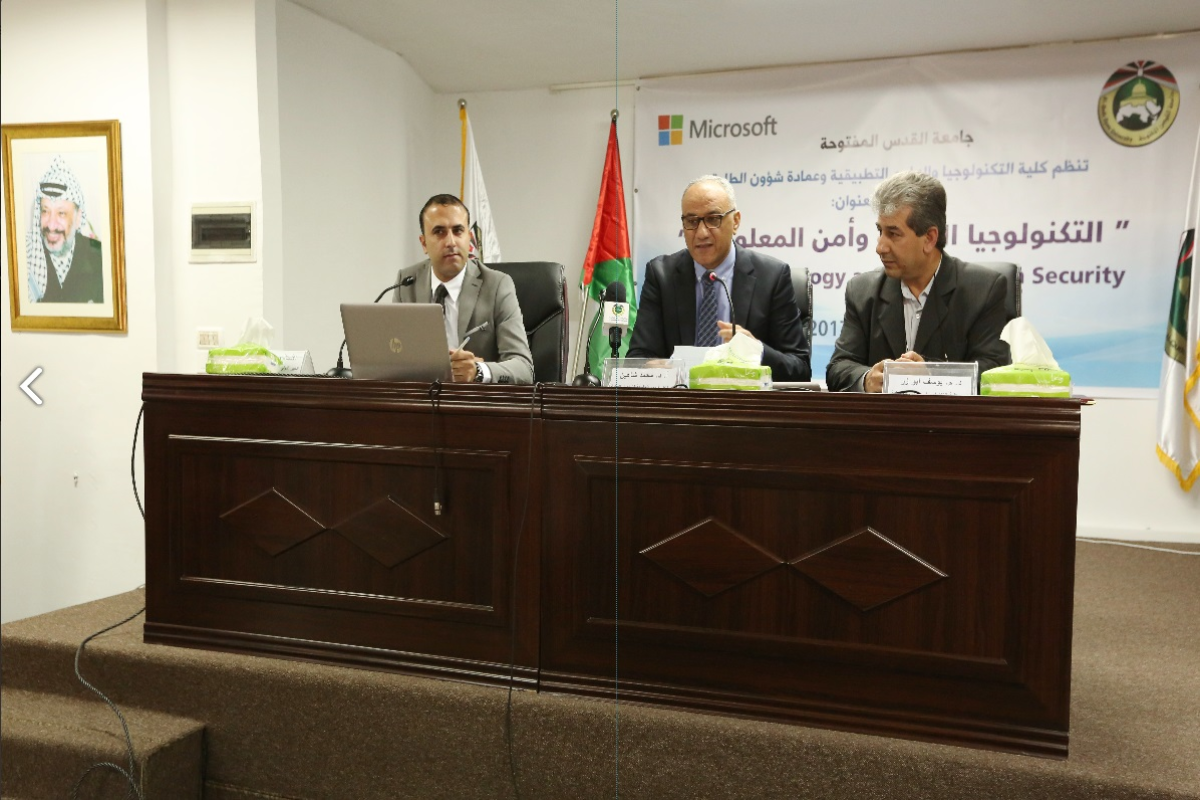 On Tuesday, 28-11-2017, the Faculty of Technology and Applied Sciences and the Deanship of Student Affairs at Al Quds Open University organized a scientific symposium entitled "Modern Technology and Information Security", and hosted the international expert of Microsoft Corporation, Mr. Waseem Awwad.
Mr. Awwad thanked the University for hosting and organizing this symposium and added that during his stay, he is keen to look at the performance of the Palestinian universities, noting that over the past years the name of "Al-Quds Open University" has been known for its achievements locally and internationally at all levels, whether academic, administrative or technological. Awwad gave a presentation on the latest developments in technology, information security, Internet stuff and others.
The Dean of the Faculty of Technology and Applied Sciences Yousef Abu Zer said that through these seminars, activities and workshops, the Faculty aims to inform students of the latest developments in the field of technology and information security. He also spoke about the agreements signed between the QOU and its various institutions, both inside and outside the country, noting that the university presidency is keen to establish cooperation relations to support the students, mentioning that these agreements signed with foreign universities in order to implement the exchange of students and Information and communication technology, and enable the students of "Open Jerusalem" to contact their counterparts in other universities to benefit from their experiences and expand their knowledge in the field of specialization.
At the end of the symposium, Dr. Shaheen, and Dr. Abu Zer, on behalf of the President of the University thanked Mr. Awwad, winner of international awards and several patents, and (33) advanced international certificates with excellence and first honors, and several awards in the field of artificial intelligence and virtual technology and cloud computing, and "The Most Valuable Expert "award by Microsoft" for three years in a row.