Deanship of Administrative Sciences and Economics organizes trainings for corporat governance contest for students of Bethlehem, Jenin and Nablus branches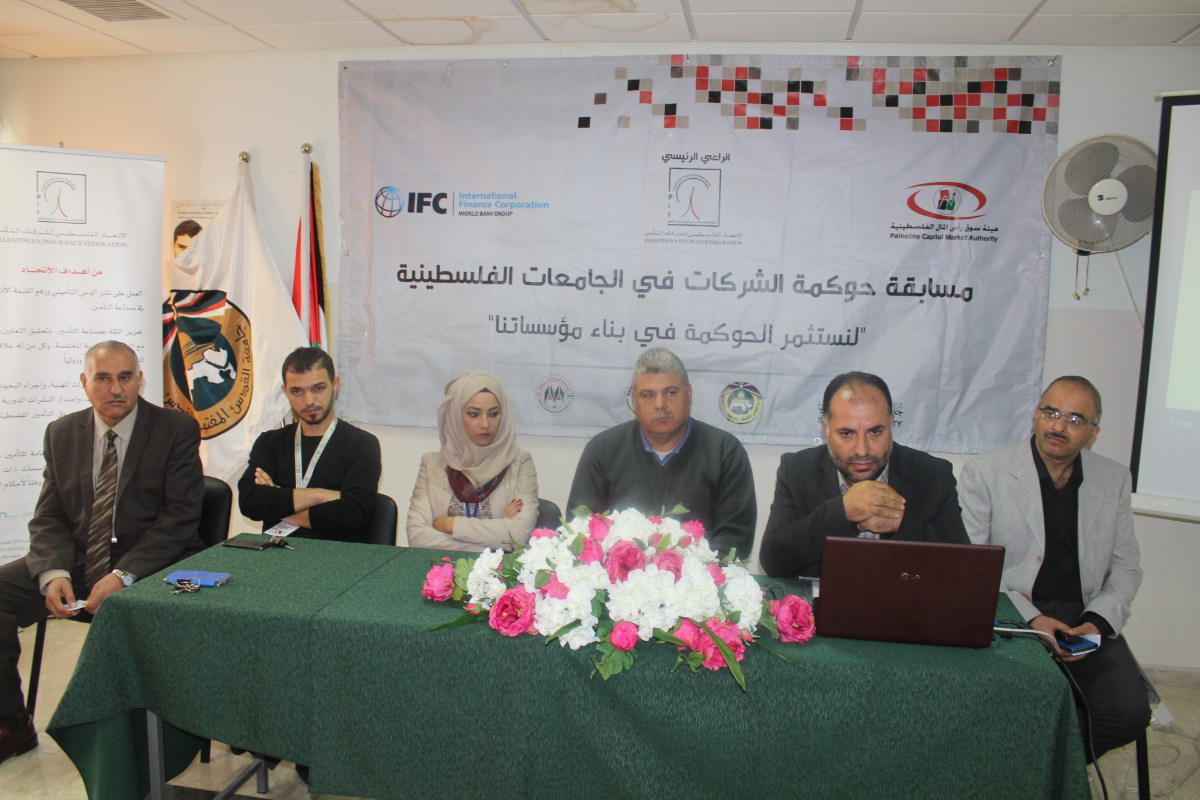 Deanship of Administrative Sciences and Economics in QOU, in cooperation with Palestine Capital Market Authority and International Finance Corporation (IFC) held a training in Bethlehem branch for students of the Administrative Sciences and Economics Faculty who are participating in the corporate governance contest. This training was sponsored by the Palestinian Insurance Federation.
This activity is affiliated from the corporate governance agreement that was signed by Prof. Younis Amr, the university President with PCMA and IFC that resulted in integrating corporate governance course in the majors of the Administrative Sciences and Economics Faculty, QOU was one of the leading universities to sign this agreement in Palestine.
The training was opened with the attendance of Bethlehem branch director, Dr. Ali Salah, academic assistant Mr. Mohammed Qewi, corporate governance contest coordinator in QOU Dr. Mohammed Tlalwah, representative of the faculty dean Dr. Yousef Abu Fara, contest trainer in Bethlehem branch Mr. Khalid Younis, representative of PCMA Ms. Lubna Abu Safiah, representative of Palestinian Insurance Federation, Mr. Mohammed Sa'abneh and representatives of insurance companies; National Insurance Company, Al-Mashreq Insurance Company, Trust International Insurance Company, Palestine Insurance Company, Al-takaful Insurance Company and Global United Insurance Company.
The training was opened by Dr. Salah who welcomed the attendees and indicated the importance of this activity to the university, he also encouraged the students to take the benefit of this training to compete with students from other universities wishing them the best of luck. Dr. Talawah made a detailed presentation about corporate governance contest, and then PCMA representative Ms. Lubna Abu Safiah delivered a speech about the contest stages mentioning that the winning student will represent Palestine on the international level.
The trainer Mr. Khalid Younis discussed different axes like; corporate governance; its reasons and importance to the Palestinian corporates, family business governance and board of directors. Dr. Talawah discussed three different axes that are; management control, transparency and disclosure: stakeholder's relations and using the whole system to make benefit for your company.
By the end of the training, PCMA representative Ms. Lubna abu safiah gave the students a case study to be submitted during fifteen days.
Deanship of Administrative Sciences and Economics in QOU launched the training activities for the students of the branches starting with Nablus and Jenin and then held another training where tens of students participated including the students of both branches.