QOU hosts an International quality and accreditation expert in higher education institutions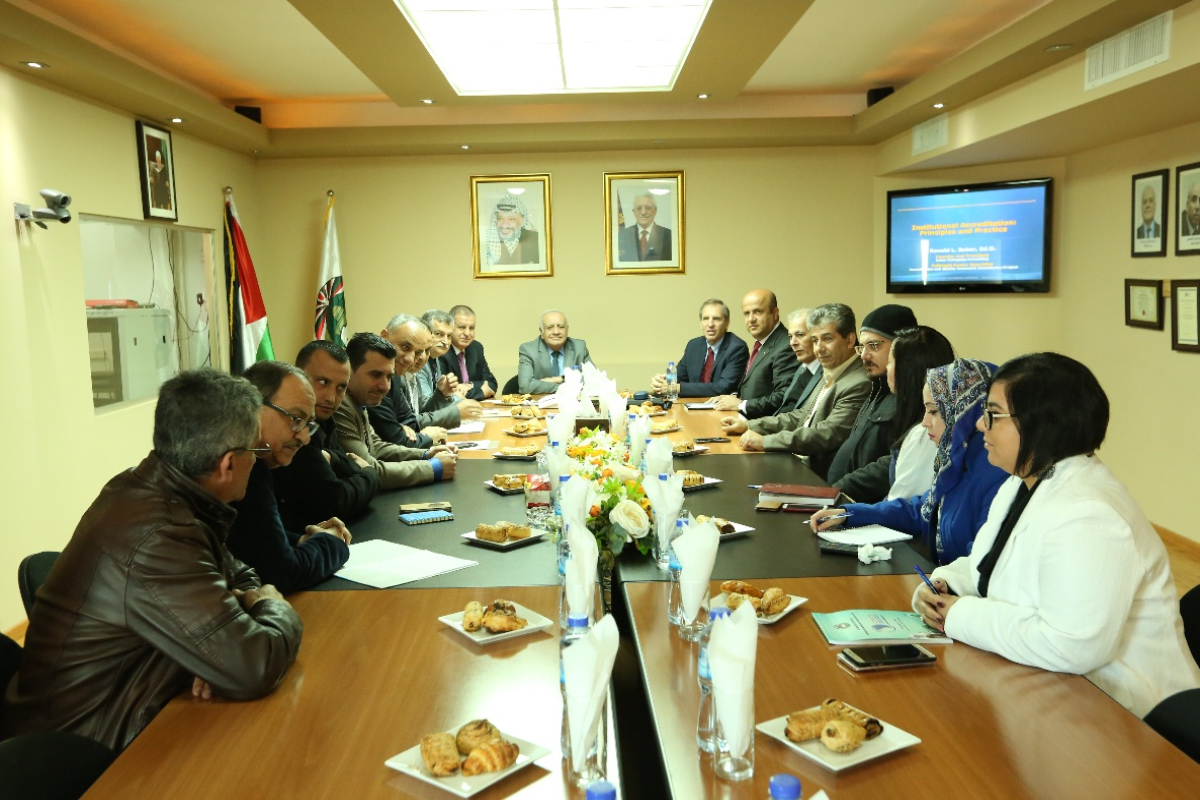 On Sunday, 26/11/2017, the American quality and accreditation expert in higher education institutions, Dr. Ronald Baker, the founder of RJBaker Consulting was hosted in QOU. He was accompanied by the advisor to the minister of education and higher education in quality and accreditation, Dr. Sami Basha and Eng. Iyad Abu Samra from Accreditation and Quality Assurance Commission (AQAC) to discuss ways of developing institutional accreditation in the Palestinian higher education institutions.
The meeting was held in Ramallah where the Chairman of the board of trustees, Eng. Adnan Samara opened the meeting welcoming the attendees. Eng. Samara stated that QOU is interested in the experiences of the international educational institutions in quality; he also encouraged taking the benefits of their experiences and applying them to the Palestinian universities.
Eng. Samara clarified that the Palestinian institutions' performance needs joint efforts and work to be developed in order to guarantee the best level of quality in the different institutions, especially in the higher education ones.
Prof. Samir Al-Najdi, vice president for academic affairs presented the background of QOU and its development path. He stated that the university has 19 branches in the West Bank and Gaza Strip; it also serves 60 thousand students enrolled in 8 faculties and 25 majors.
Dr. Baker appraised QOU and its achievements since it was established and he said that QOU was able to insert open education system in Palestine.
Dr. Eng. Yousef Assabah, head of quality department at QOU said that the university released a special quality guidance that suits the open education system. He assured that self-evaluation is one of the main pillars of the development process; observing the current reality of the university at all levels will allow the university to identify its weaknesses and strengths based on the quality and accreditation criteria guide for the universities and open source learning programs issued by Arab universities union.
Prof. Abdulfattah Abu Shukur, board of trustees' member, called for unified accreditation criteria for all higher education institutions so that accreditation policies would be clear. Dr. Basha encouraged making more joint efforts among the educational institutions to come out with clear accreditation criteria for those institutions and called for cooperation between all related sides to create applicable and solid accreditation criteria.
QOU thanked Accreditation and Quality Assurance Commission and the US general Consulate in Jerusalem for organizing the valuable visit of the American quality and accreditation expert in higher education institutions, Dr. Ronald Baker