QOU honors the Dean of the Gernata College and the President of the Socialist Youth League in the Arab world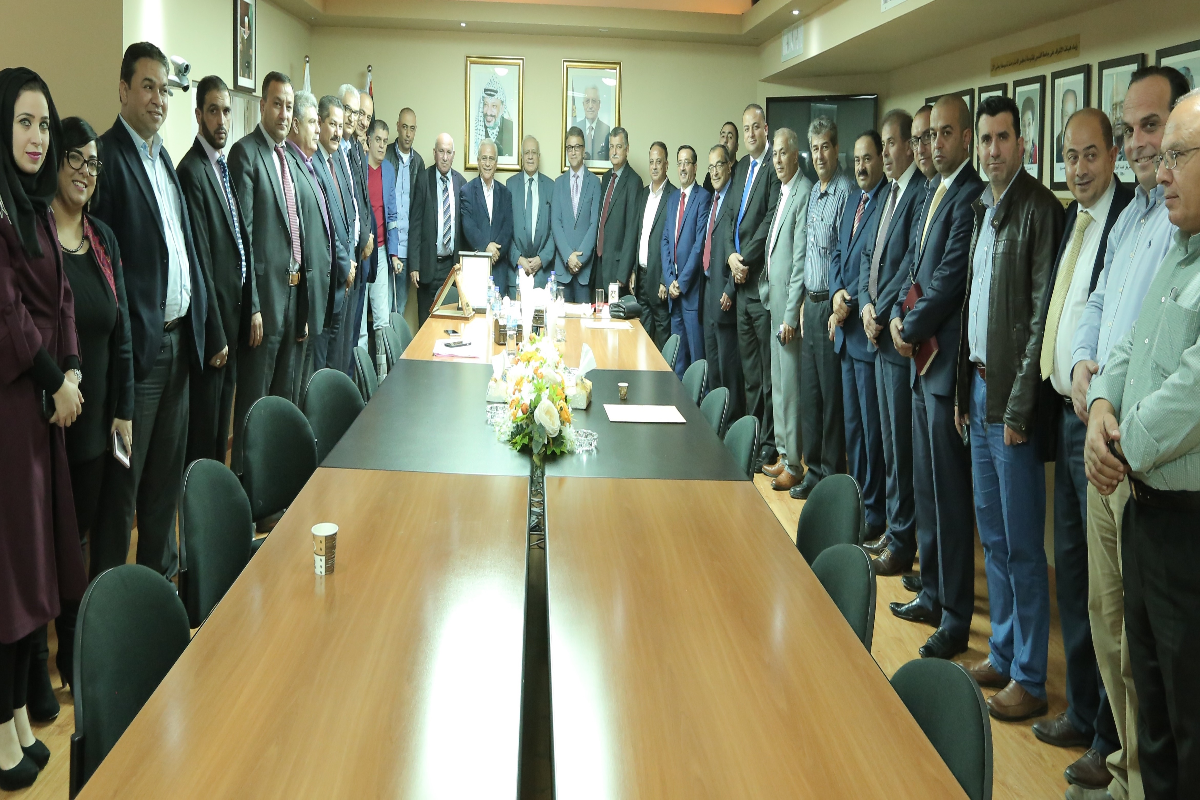 On Monday, 20/11/2017, Chairman of the Board of Trustees of QOU; Eng. Adnan Samarah and President of QOU; Prof. Younis Amr honored the Dean of the Gernata College Dr. Taha Amara for his efforts in delivering the educational services for the Palestinian students in Palestine 48 areas. They also honored the vice president of regional students councilin QOU and head of students council in Ramallah and Al-bireh branch; Fadi Hammad for electing him the President of the Socialist Youth League in the Arab World.


Eng. Samarah welcomed the attendees and confirmed that QOU is proud of what it has and of its achievemnts and he clarified that the university was able to achieve many things in a short period of time through discussions and dialogues that is considered the base of success. Eng. Samarah appraised the efforts of the university staff who won many prizes in the recent years and invited them to continue in this success. He also stressed the importance of scientific research in all the academic and educational institutions and he invited the attendees to make scientific research the top priority in order to achieve a developed scientific research in the QOU.
Prof. Amr welcomed the attendees and express his pride of the achievements that the university achieved in the recent years due to the joint efforts of the administrative and faculty staff and the students assuring that the board of trustees and the university presidency pay huge attention to involve all its staff in the procedural, applied and administrative decisions to come out with the most suitable ones. He appraised the efforts of the students and their loyalty and he clarified that this honoring is a way of recognizing the efforts of the university's innovators.
Prof. Amr also said "this family meeting was organized to honor two distinguished characters in the university; our partner in work and science and ethical cooperation Dr. Taha Amara who supported us through his practical, scientific and scientific cooperation in order to provide the social service major and then all other majors for our people in the 48 areas, he also participated in the different activities of the university, most recently the sixth folklore conference in Jenin and Nazaret. The second character is QOU's son Fadi Hammad who have clear and sharp positions in the crises that the university went through, today we are honoring him not only for his distinguished work for the students council but also for being elected the president of the Socialist Youth League in the Arab world representing Palestine and QOU.
Dr. Amara thanked QOU for this honoring, appraised the cooperation between QOU and Gernata College, and invited all Palestinian universities to follow the steps of QOU and benefit from its experiences