QOU and a German delegation discuss research cooperation in a workshop for the German Palestinian Science Bridge and during a visit for Agricultural Research Center in Jericho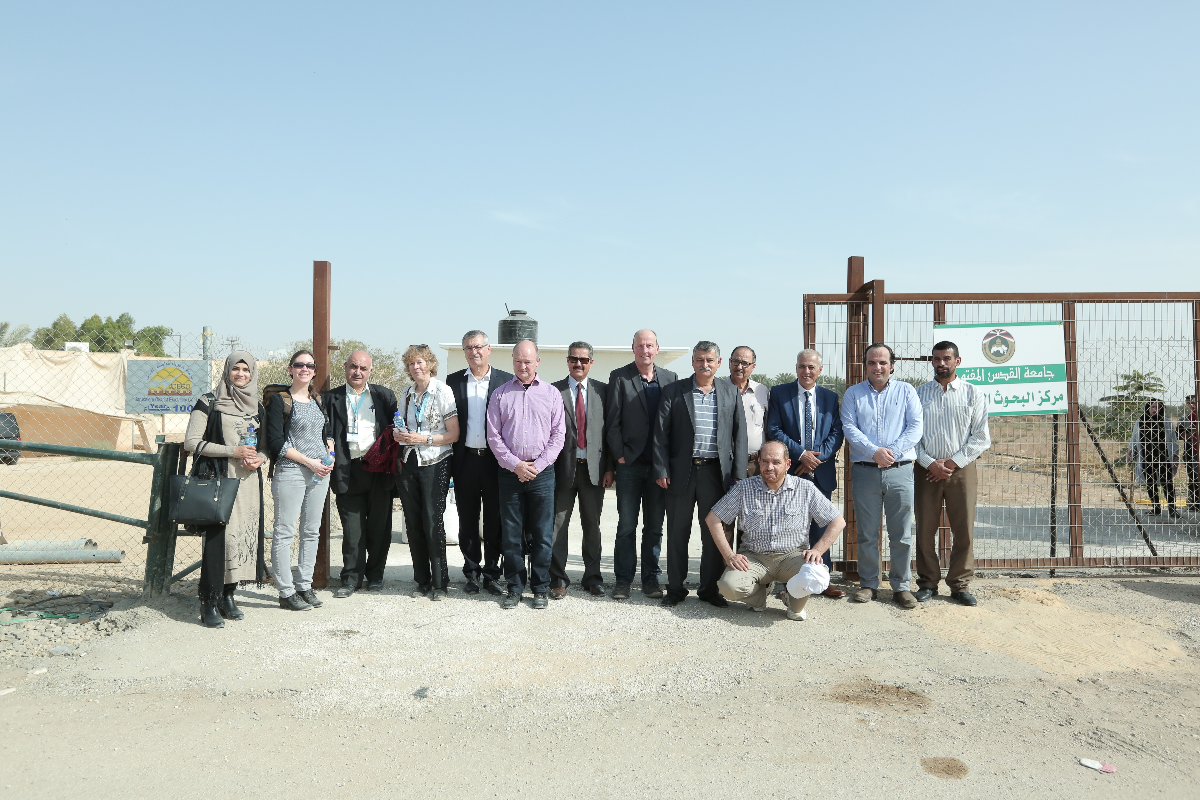 On Tuesday, 14/11/2017, QOU welcomed a delegation of German researchers from Jülich Research Centre to introduce them to the Agricultural Research Center that is affiliated to the university branch in Jericho and to discuss way of cooperation between Palestine and Germany in this field. This meeting followed a wokshop that was organized by "German Palestinian Science Bridge" in the University of Bethlehem.
The delegation was welcomed by Vice President for Academic Affairs Prof. Samir Al-Najdi, President Assistant for Technology and Media Production and Director of ICTC Dr. Eng. Islam Amr, Director of University Branch in Jericho Dr. Rateb Abu Rahma, Dean of Scientific Research in the University Prof. Husni Awad, Dean of the Faculty of Agricultural Sciences and Director of Agricultural Research Center Dr. Ma'n Shaqwarah.
Prof. Al-Najdi welcomed the delegation on behalf of President Prof. Younis Amr and wishes to have a fruitful meeting clarifying that QOU seeks to benefit the Palestinian community in the different fields especially in the agricultural sector. He also introduced the delegation to the education system of QOU (blended learning) that is the most developed theory of education in the world.
Dr. Eng. Islam Amr clarified that this meeting will identify the cooperation techniques between QOU and PGSB especially in the agriculture field. He assured that investing in the Palestinian agricultural sector would enrich the Palestinian economy.
The German delegation discussed the PGSB's work that seeks to achieve mutual interest especially in the scientific research field in Palestine and confirmed supporting students' exchange.
Director of Jülich Research Centre Prof. Ghaleb Natour confirmed the importance of having joint projects with mutual interest and real benefit in general.
Director of Jericho Branch Dr. Abu Rahma stated that the Agricultural Research Center that was recently established made a noticeable change on the governorate level.
Prof. Awad said that this activity is one of the networking efforts that the center is doing with the local and international research centers.
Dr. Shqwarah said that despite the fact that the center is new, it was able to solve many problems that face the agricultural sector in Palestine. Dr. Naser Dweik demonstrated the experiments implemented by the center and the planned ones assuring the need to support the work of the center to reach the maximum benefit for the Palestinian agricultural sector.
The delegation made a tour of the agricultural research center and was introduced to the recent developments and the projects in the center.