QOU organizes a seminar entitled "Towards a long-term vision for sustainable development: Palestine 2050"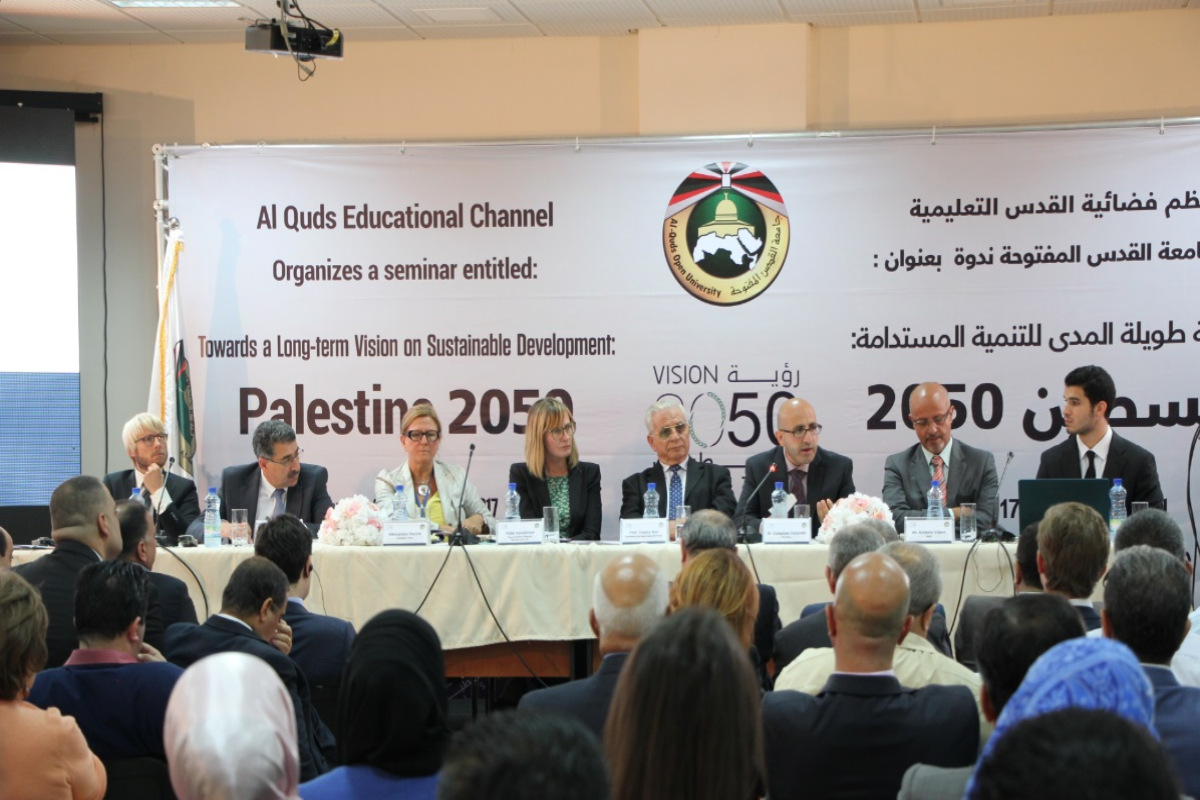 Participants recommend the translation of the national vision according to the needs of each city based on a comprehensive vision
On Monday 25/9/2017, Al Quds Educational Satellite Channel organized a seminar entitled "Towards a long-term Palestinian vision for sustainable development: Palestine 2050" at the headquarters of the Palestinian Economic Policy Research Institute (MAS) in Ramallah.
The seminar was inaugurated by Prof. Younis Amr, President of the University, in the presence of Dr. Esteban Salama Advisor to the Prime Minister, a number of officials and experts, representatives of the World Bank, the European Union, the mayor of Ramallah Eng. Musa Hadid, representing the Union of Palestinian Municipalities, and other governmental, academic and diplomatic figures and representatives of international organizations, civil society and the private sector institutions.
The researcher, Yasser Al Khalidi, presented the vision he developed for the Palestinian cities for the next three decades. He said that "Vision 2050" is a future plan for sustainable development in the Palestinian cities. Al-Khalidi mentioned that the study aims to develop a future model for Palestinian cities in the framework of sustainable development, through answering the main questions: What is sustainable development? How can we reach smart and comprehensive solutions? He added that the study succeeded in coming out with a plan for the sustainable development of Palestinian cities in the next 30 years, after a series of interviews conducted in cooperation with Al Quds Educational channel with senior economists and experts in the field , headed by the economist and the former Governor of the Monetary Authority Dr. George Al Abd, and the Chairman of the Board of the Palestine Investment Fund Dr. Mohammed Mustafa, and others.
A documentary film was presented during this seminar. It is noteworthy to mention that the crews of Al Quds Educational Channel worked for six months with the researcher to document the interviews, photograph some important sites and develop a picture of the outputs of this vision using the latest programs .
At the conclusion of the workshop, the participants presented a number of recommendations, including: the importance of holding more workshops on developing the vision of sustainable development, developing strategies and action plans and translating the national vision according to the needs of each city based on a comprehensive national vision and taking advantage of the experiences of countries, and establish forums to ensure continuous communication, invite to meetings with relevant bodies and develop publication that includes s all presentations and interventions addressed by the seminar to disseminate participants and researchers of what had been presented .