Partnership agreement between QOU and Attanal Al Arabi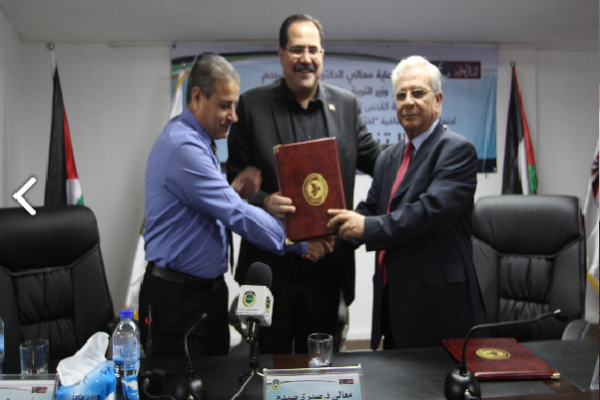 Al-Quds Open University and Attanal Al-Arabi signed an agreement that entitles the university to conduct the international Arabic language proficiency test. This test is aimed at Arabic speakers, non-Arabs learners of the language for work or for academic purposes.
The agreement was signed by Prof. Younes Amr on behalf of QOU, and by Alttanal representative in Palestine Mr. Jawdat Seisan . The signing ceremony was attended by H.E. Dr. Sabri Seidam, Minister of Education and Higher Education.
The representative of Al-Tannal Al-Arabi Foundation in Palestine mentioned that the idea of ??the project was born in a scientific conference in 2004, which was held in Oman, and that QOU is a member of the institution through the Faculty of Arts. The Foundation works to improve the use of Arabic language in life and to protect it from loss.
He pointed out that the agreement gives QOU the right to submit the Arabic language international proficiency test in order to distribute this test in various Palestinian governorates to those who wish to apply for it. Atannal will be committed to provide QOU with the Management System, which is an elcetronic testing system.
Mr. Seisan considered te partnership agreement between Altannal Al-Arabi with Al-Quds Open University - confirms the concerted efforts of the institutions to support our Arabic language.