Khalil Barghouthi ... The youngest journalist in Palestine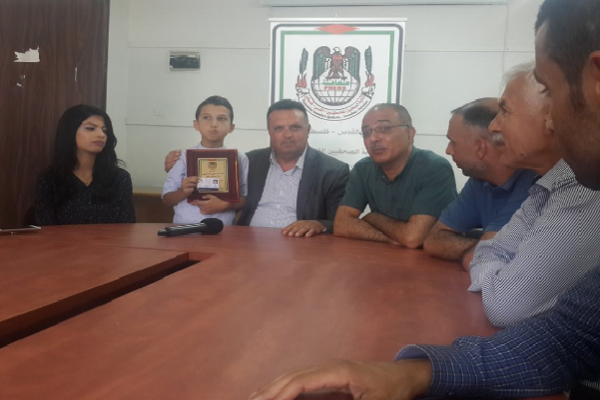 The Palestinian Journalists Representative, Mr. Nasser Abu Bakr handed the child Khalil Barghouthi (9 years) a membership card for his participation in a children's program at Al Quds Educational Satellite Channel. The program consists of (13) episodes and discusses issues that concern children, such as child labor, school dropouts besides other issues.
Abu Bakr thanked Al Quds Educational Satellite Channel, which gave the Khalil this opportunity, stressing that the Channel plays a big role among our people. Abu Baker also mentioned that he will contact the International Federation of Journalists in order to discuss the possibility for Khalil to be considered as the youngest journalist in the world. A program between Al Quds Educational Satellite Channel and the Palestinian Journalists Syndicate in order to provide press training in the various schools in Palestine will also be discussed.
Dr. Eng. Islam Amr, commented that al Quds Educational Satellite Channel is open to all talents in the field of Media and at all levels, thanking the Journalists Syndicate for this gesture and concern. Dr. Eng. Amr added that Al Quds Educational Satellite Channel is considering launching a media project to provide training in various schools in cooperation with the competent authorities for the new generation to be capable of transmitting the Palestinian narrative to the world as part of our national struggle.