QOU and WAFA sign a Memorandum of Understanding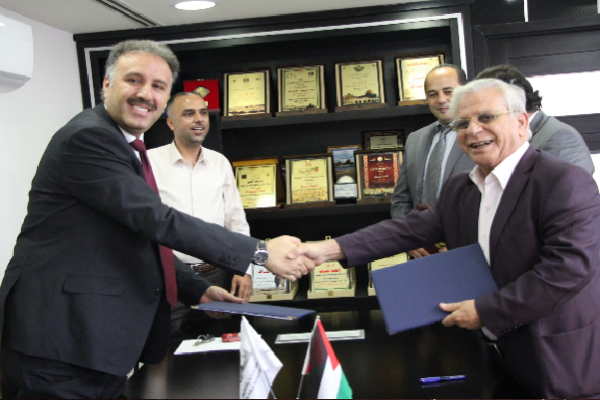 QOU, represented by its President, Prof. Younes Amr, and the Palestinian News and Information Agency "Wafa" represented by its Chairman, General Supervisor Minister Ahmed Assaf, on Tuesday 15/08/2017, a memorandum of understanding between the two sides.
The aim of the memorandum is to maximize the benefit gained from the capacities available to both parties, raise the quality of the training and its outputs in the field of media in Palestine and to raise and strengthen the capabilities and skills of national cadres in the field of media and administrative and technological sciences and enhance the relation and partnership between the official governmental sector and the academic sector in Palestine.
Under this memorandum, there will be cooperation in the exchange of expertise and knowledge related to training in the information and support services sector (IT and administrative affairs). The facilities available to either team will be made available to the other team as per the working conditions and regulations of each of them. The cooperation will also include attracting graduates wishing to conduct training in the Palestinian News and Information Agency "Wafa".