Breaking the jail by completing his university education to draw a smile on the face of his wife and children, prisoner Majdi Rimawi graduates from QOU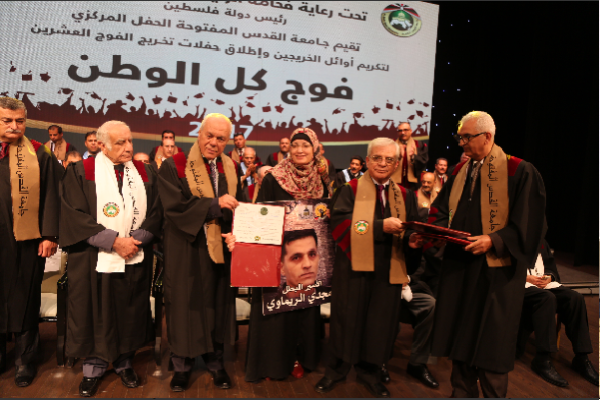 Despite life imprisonment sentence, Majdi al-Rimawi was able to complete graduation requirements of QOU and to attend, in spirit; his wife and his son raised the graduation ceremony, a poster of his picture on the podium during launching the 20th graduation ceremony, which was attended.
It is noteworthy that the prisoner's education program is the outcome of a memorandum of understanding between the administration of Al-Quds Open University and the Ministries of Prisoners and Education, and allows prisoners under certain conditions to complete their university education in three specializations: Arabic language, sociology and Islamic education. Currently, about 700 prisoners are enrolled in university education.
The University President Prof. Younis Amr said that QOU did not hesitate to sign a memorandum of understanding with the Ministries of Prisoners Affairs and Education, under which the university will develop a special program for the education of prisoners according to academic conditions to ensure the integrity of the educational process and its outputs.