QOU and PARC organize "the Cooperative Movement in Palestine ... Reality and perspectives of development"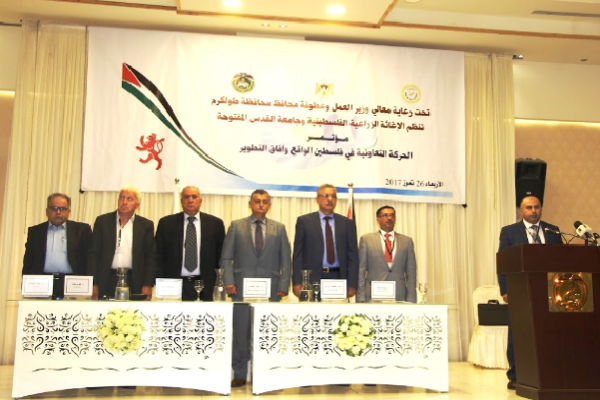 Under the patronage of His Excellency the Minister of Labor, Dr. Mamoun Abu Shahla, and the Governor of Tulkarm, General Issam Abu Bakr, Al Quds Open University and the Palestinian Agricultural Development association held a conference entitled "The Cooperative Movement in Palestine ... Reality and Perspectives of Development" .
Dr. Salameh Salem, Director of QOU Tulkarem Branch, said that QOU and PARC agreed to organize this conference as an affirmation of the importance of cooperative movement and teamwork in social and economic development for the benefit of the largest segment of Palestinian community.
The participants in the conference stressed the need to regulate the legal and legislative aspects of the work of agricultural cooperatives so as to make them less dependent on foreign programs and turn them into Palestinian social work by clarifying the benefits that can be achieved through cooperation between the public sector and the private one and the Palestinian farmer, besides supporting cooperatives in areas "C".
Recommendations:
The participants recommended that a common vision be developed for the Palestinian agricultural cooperatives in order to reach a systematic joint work base, and then turn the vision and into programs and work mechanisms that seek to provide the best services to the Palestinian farmer.
The participants stressed the need to endorse the new cooperative law "the Cooperative work Commission, the need to increase the share of the agricultural sector in the state general budget and exempt the products of cooperative societies of taxes and customs.
The participants stressed that the Faculties of Agriculture in the Palestinian universities have to include courses related to the cooperative movement and its role in achieving economic and social development, supporting women cooperatives in order to activate their role in achieving economic development and the need for coordination and cooperation among donors in regard to supporting cooperatives.
The participants stressed the need to enhance cooperation in developing the Jordanian-Palestinian cooperative movement by concluding cooperative agreements in various fields, the most important of which is the activation of marketing agricultural products.
The participants stressed the need to activate the organization and coordination between the Cooperative Unions and the components of the cooperative movement in Palestine, leading to the development of communication and coordination between the cooperative unions and the institutions supporting the cooperative work.