QOU and Palestinian Dream institution discuss cooperation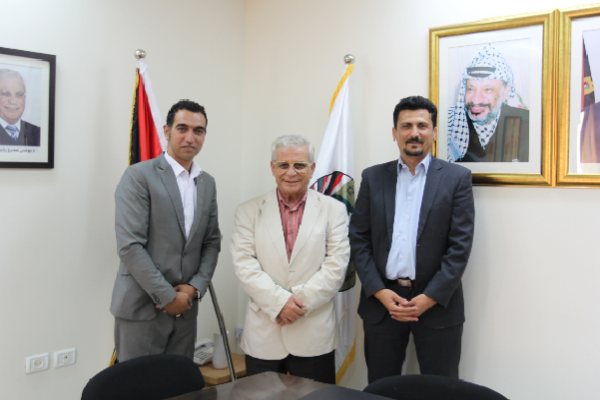 Prof. Younes Amr President of Al Quds Open University received Mr. Kamal Taqatqa, CEO of the Palestinian Dream Institution and discussed ways of joint cooperation in the fields of enhancing the efficiency of students' leadership and managing union work, employment issues, optimal investment of voluntary work hours in serving the community , and comprehensive prevention and its relation with the needs of the Palestinian reality.
Prof Amr expressed the University's willingness to cooperate with the Palestinian Dream Institution to implement joint educational and community programs, calling for the formulation of a joint cooperation agreement that will contribute to providing varied services to students and the Palestinian community in general.
In a related context, Mr. Mahmoud Hawamdeh, Director of Continuing Education Center said that a comprehensive meeting will be held with the competent departments at the University to discuss details of joint work with the Palestinian Dream Institution.
Taqatqa mentioned that these discussions are part of the work plan to find a common formula for reaching understandings that provide the best services to the Palestinian society, especially with regard to the awareness raising, education and capacity-building of Palestinian youth.