Distinguished participation of QOU in the Second National Forum of Scientists in Palestine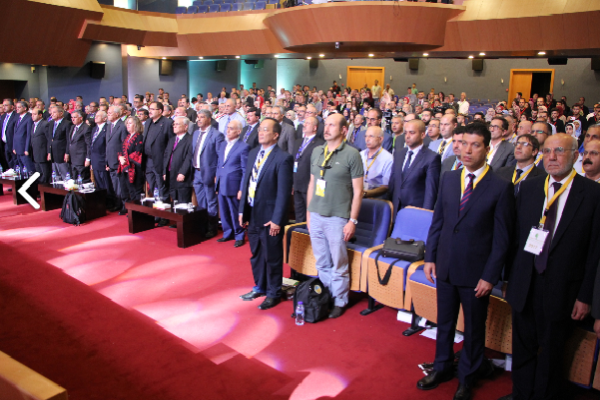 Al-Quds Open University participated in the Second National Forum for Scientists in Palestine, which was organized under the patronage of the H.E. President Mahmoud Abbas in Ramallah.
During the opening ceremony, Mr. Tayeb Abdel Rahim, the Secretary-General of the Presidency, Eng Adnan Samara, Chairman of the Higher Council for Innovation and Excellence, and Dr. Sabri Saidam Minister of Education and Higher Education, honored Prof. Younis Amr for the role of the University in supporting innovation and excellence in Palestine and the forum of scientists.
During the event, (30)scientists who supervised pilot projects, including Prof. Jihad al-Batsh, Vice President of Al-Quds Open University for the Gaza Strip affairs, Dr. Eng. Emad Al-Hodali, Assistant to the President of QOU for External Relations, Dr. Eng. Yousef Sabbah, Director of Quality Department, were also honoured for their participation in the Forum.
Among the projects that wre presented by Al-Quds Open University are the followoing:
· Smart control systems for production facilities, the project team included : Rima Salah, Ahmed Nazzal, Amani Issa, Aref Aridi, and the supervisor instructor is Laith Kamal Ibrahim.
· Eliminating mosquitoes in the Gaza Strip using algae. The project team included Dr. Bassam Fadel Saber.
· Self-administered online courses, the project team included: Mr. Baha Thabet, Director of Open Learning Center, Moahmmad abdul Haq, lamis Shalash, Sada Farahneh, Ghadeer Hamed, Shorouq Khattab, Rana Shar'ab, Marwa Shammasneh, Noura al-Qadi, Amani Khawaja, Maisa Khalil, Nadra Brahmana, Naama Jabr, Raba Salama, Alexandra Hishamah, and others. Safa al-Saadi, Mohammed al-Daghameen, Hussein Younis and Faten Aqra'.
· Reducing the consumption of irrigation water in the palm growing, by Jum'ah Ibrahim Ali Abu El Hassan.
· Harvesting of medicinal and aromatic plants and vegetables leaf, by Ibrahim Juma Ali Abu Hassan.
· A Smart Bed for babies, the team included Asia Ghatasha from the Hebron branch.
· A smart bed for bedridden patients, the project team included Ibrahim Zawahra, Arwa Abu Ghayada, and Ghadir Hamamra .
· Smart shirt project for autistic persons, and the team included both Sajai Adawi, and Raham Khuffash.