QOU and the National Office for Rebuilding the Southern Governorates sign a cooperation agreement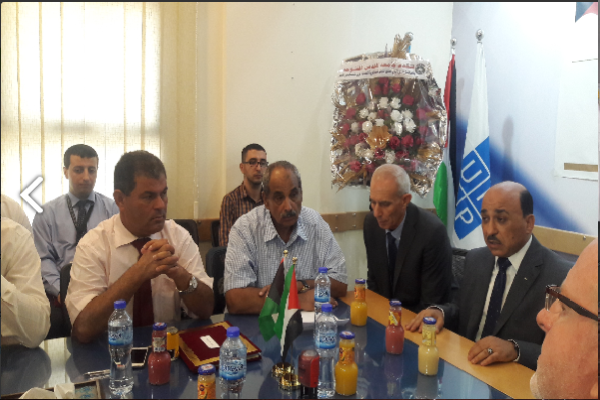 Al Quds Open University and the National Office for the Rebuilding of Southern Governorates signed an agreement to finance equipping e-learning laboratories in Gaza Strip branches on Thursday, 06/07/2017 at the headquarters of the United Nations Development Program (UNDP).
Minister of Public Works and Housing, Dr. Mufeed Al Hasayneh, and Vice President of QOU for the Gaza Strip Affairs Prof. Jihad al-Batsh, Deputy Chairman of the Technical Committee for the management of the Kuwaiti grant, Eng. Rebhi Sheikh, Dr. Mohammad Zyarah , Director of the Consultative Office in charge of managing and monitoring the implementation of the grant, and Mr. Basil Nasser, Director of the UNDP office in the Gaza Strip.
Prof. Al Batsh , on behalf of the University and its President. Prof. Younis Amr thanked the state of Kuwait and its Prince Sheikh Sabah Al-Ahmad Al-Sabah, the Kuwaiti Government, the Kuwaiti people and the Kuwaiti Fund for Arab Economic Development for supporting the Palestinian people in their national struggle and their generous support for the development of Palestinian institutions.
It is worth mentioning that, within the framework of the agreement, the e-learning laboratories in the University's branches in the Gaza Strip will to enhance the skills of the learners electronically rehabilitate community members and some institutions electronically, furthermore, eradicate the electronic illiteracy within the Palestinian community and will enhance the competencies of the graduates.