Hebron Branch: Three students win "Sharif Shatreet Award" for Best Graduation Project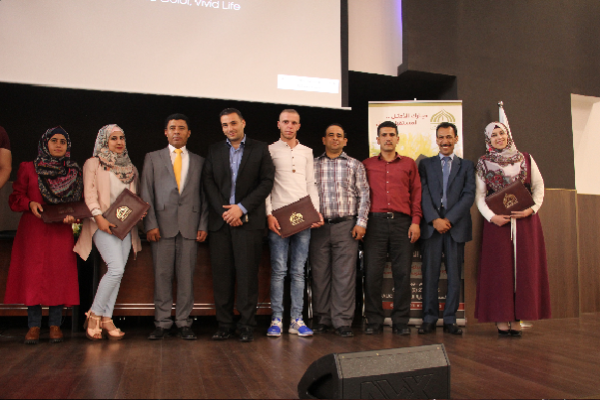 Three students of Al-Quds Open University in Hebron Branch won Sharif Al-Shatrit Award for the best graduation projects for the year 2017.
The competition included three research sectors: Information Technology, Allied Medical Sciences, and Administrative and Financial Sciences. Six Palestinian universities participated in the competition: Al Quds Open University, Palestine Ahliyah University College (PAUC), Bethlehem University, Hebron University, Palestine Polytechnic University, and Al Quds University.
The Chairman of the Organizing Committee of the Award said that the evaluation of the winning projects was based on a number of elements, including an innovative idea, entrepreneurship, clarity,applicability, economic and social impact, in addition to the possibility of implementing the idea to become profitable work.
The graduation projects of Al-Quds Open University were presented by students of the Hebron Branch in the fields of finance, administration and information technology.
Student Rokaya Badran won the second prize for her graduation project entitled "E-waste Management: Reality and Solutions in Hebron Governorate", supervised by Dr. Yasser Issa. In the same sector, Dalal Al-Shobaki and Manar Tmiza won the third place in the same sector for their project entitled "The exposure of workers in the health sector to needles tingling and the mechanism of documentation and follow-up, in Hebron governorate" also supervised by Dr. Yasser Issa.
Student Mohammed Fazza' Al-Ja'bari won the third prize for his project in the information technology sector, entitled "Anti-Theft System for Vehicles Using Fingerprint Sensor ", the project is supervised by Dr. Mohammed Qabajah, who explained that the invented system, was designed and applied effectively on modern cars and proved its effectiveness, and is characterized by ease of installation and low cost so that anyone can buy it.