QOU and Granada University discuss academic exchange opportunities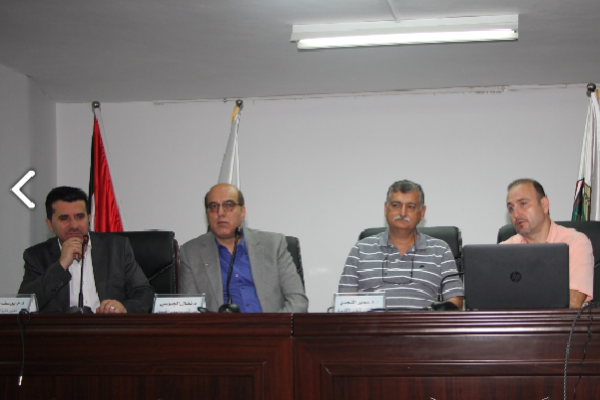 During a seminar that was held by Al-Quds Open University in the presence of Prof. José Angel Khomenes (Professor of Contemporary History and an active member of the Institute for Peace and Conflict Resolution at the University of Granada, Spain); the participants discussed ways to enhance the exchange of academics and students between the two Universities through the Erasmus + program. The seminar took place in the presence of Dr. Nidal al-Jayousi, Representative of the Palestinian-European Cooperation Mission in Higher Education in Palestine (Erasmus +), besides researchers and academics interested in academic exchange with Spanish universities and in contemporary history.
The Vice President for Academic Affairs Prof. Samir Najdi mentioned that the aim of the seminar is to enhance the academic exchange opportunities between Palestine and Spain, specifically between QOU and Granada University, pointing to the constant interest of QOU to enhance cultural and academic relations with various universities thanking Erasmus + for its role in activating the academic exchange of students and academics of QOU and its counterparts in Europe.
Professor Jose Angel made a presentation at the first session on academic exchange with the University of Granada and at the second session of the seminar, Professor Khomeins presented a panel discussion on the Muslims in Spain between the past, the present and the future, referring to the Andalusian Caliphate in the past and the reality of Muslims today in Spain.
Dr. Nedal Al Jayyousi praised QOU for enhancing cooperation with other universities in Europe and in the Arab World, which contributes to its development. He pointed out that Erasmus+ program aims to develop academic exchange between Palestine and Europe.