The President of the University receives a Spanish delegation from the University of Granada and discusses cooperation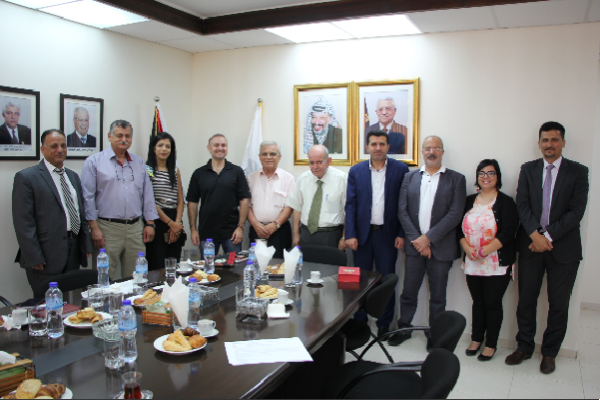 Prof. Younes Amr, The President of Al-Quds Open University received a Spanish delegation at his office in Ramallah and discussed with them ways of cooperation between QOU and the University of Granada, in the framework of the University's cooperation with Erasmus + program. The Spanish delegation included Prof. José Angel Khmenez, Professor of History at the University of Granada and Ms. Rose Othman.
Prof. Younes Amr welcomed the delegation coming from Spain and praised the continuous support of Spain to our people. Then Prof. Amr talked about Blended learning system, which the university adopts, and which combines open education and e learning, a new learning model adopted globally, "We aspire to achieve cooperation between QOU and Granada University in all fields" he added.
Prof. Khmnez explained that the University of Granada is a center that is specialized in peace and conflict resolution, an educational non-political institution, aspiring to cooperate with Al Quds Open University, noting that the work of the University in Palestine aims to support the Palestinian people more than any other goal. He added that he was pleased to learn about the great role played by Al-Quds Open University in Palestine to provide educational services to all segments of the society. He added that The University of Granada is one of the first universities, which established partnerships with other universities. It has partnerships with 1,000 institutions worldwide and in various fields "We look forward to increasing and developing partnerships worldwide, and we can offer scholarships in Spain," he said.
The meeting was attended by Prof. Samir Al-Najdi, vice President for Academic affairs, Dr. Marwan Darwish, Vice President for Administrative Affair, Dr. Isam Khalil, Vice President for Financial Affairs I addition to the Assistants to the President of the University: Dr. Eng. Islam Amr, Dr. Alaa Al-Shakhshir, Dr. Eng. Imad Al-Houdali, and Dr. Youssef Sabah, Director of Quality Department Ms. Sulafah Musallam, Director of Public Relation Department and Mr. Mahmoud Hawamdeh, Director of Continuing education Center .