Prof. Younes Amr, President of QOU, and an American delegation discuss ways of developing academic accreditation and quality of higher education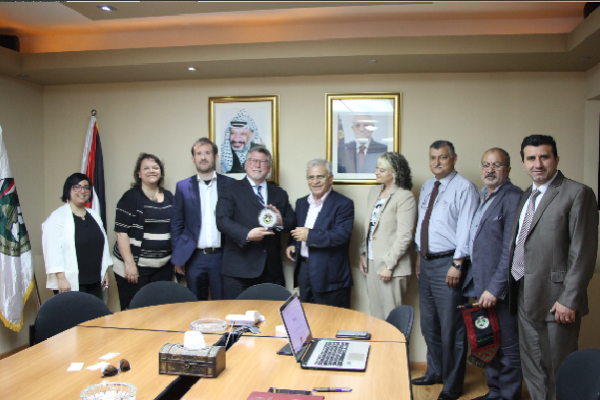 Prof. Younes Amr, president of QOU, received an American delegation that included the Academic Accreditation Specialist and the President of the Kennebec Valley Community College coming from the United States of America, and a delegation from the US Consulate General in Jerusalem that included,Mr. Chris Hedges, the Cultural and Media Consul, Mr. Richard Hooper, the Accreditation specialist, Ms. Sheryl Collins from the Diplomatic Affairs, and Ms. Maureen Marroum, Cultural Affairs Specialist at the US Consulate. The meeting focused on discussing ways to develop academic accreditation in Palestinian universities and to improve the quality of higher education in the country.
At the beginning of the meeting, Prof. Amr briefed the delegation on the work of QOU, noting that it is the largest university in the country in terms of the numbers of students, and its widespread and accessing various segments of the Palestinian people. The University conducted a series of internal evaluations and also passed the International Efficiency Test (ETS), by the Canadian University of Manitoba in 2006 .
"We applaud the high role played by Al Quds Open University by targeting the poor, the marginalized people , and the women in Palestine," said Mr. Chris Hedges, who expressed his hope for the strengthening of cooperation between the two sides and for the development of higher education and open education in Palestine.
Dr. Richard Hooper pointed out that the universities working in the field of open education face great difficulties and obstacles in performing their mission, stressing the importance of building the capacity of institutions in the field of self-evaluation, and indicating the purpose of his visit which is to examine the possibility of developing quality in different Palestinian universities based on self-assessment and then on external assesment if available. Mr. Hooper stressed the importance of the capacity building of the different institutions in the field of self-evaluation and then conducting external evaluation.
The meeting was attended by Dr. Samir Al-Najdi, the Vice President for Academic Affairs at QOU, Dr. Alaa Shakhshir, Assistant to the President for Follow-up Affairs, Dr. Eng. Imad Al-Hodali , Assistant President for External Relations, Dr. Yousef Sabah Director of Quality Department, Ms. Sulafah Musallam, Director of Public Relations Department, and Ms. Lina Abu Hilal, Coordinator of International Relations
.